September 17, 2021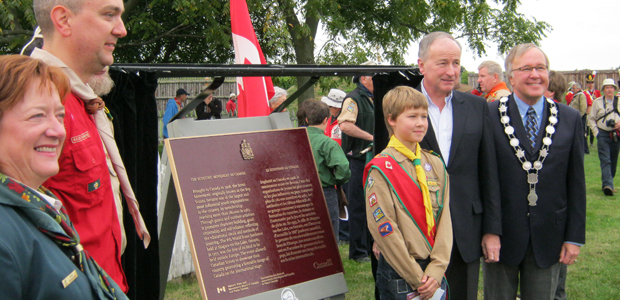 Niagara-on-the-Lake, Ontario - On behalf of the Honourable Peter Kent, Canada's Environment Minister and Minister responsible for Parks Canada, the Honourable Rob Nicholson, P.C, Q.C., Member of Parliament for Niagara Falls, Minister of Justice and Attorney General of Canada, today paid tribute to the importance of the Scouting Movement in Canada. A special ceremony was held at Fort George National Historic Site of Canada during an encampment attended by over 2,000 scouts. Minister Nicholson unveiled a Historic Sites and Monuments Board of Canada commemorative plaque.
"The Scouting Movement has a long history of engaging Canada's youth," said Minister Kent. "The movement helps young Canadians to become effective leaders, teaching them vital team-building and survival skills that give them the tools to be confident, self-reliant and responsible citizens."
Since 1908, the Scouting Movement has been among the largest and most influential youth movements in Canada, its membership reaching more than 280,000 Scouts in 1965. Canada emerged on the world stage of Scouting in 1946, when the national body joined the World Organization of the Scout Movement and was awarded the honour of holding a World Jamboree nine years later, the first such gathering outside Europe. Held on a military camp beside Fort George National Historic Site, this gathering of over 11,000 youths was the largest ever to occur in Canada at the time.


"The Scouting Movement in Canada encourages positive community building by encouraging comradeship, leadership, and above all generosity," said Minister Nicholson. "We are proud to celebrate the legacy of a movement that has promoted important character building qualities in young Canadians for over a century."
Created in 1919, and supported by Parks Canada, the Historic Sites and Monuments Board of Canada advises the Government of Canada through the Minister of the Environment regarding the national historic significance of places, persons and events that have marked Canada's history. Parks Canada manages a nationwide network of national historic sites that make up a rich tapestry of Canada's cultural heritage and which offers visitors the opportunity for real and inspiring discoveries.
For additional information, please see the accompanying backgrounder at www.parkscanada.gc.ca under Media Room.