September 30, 2021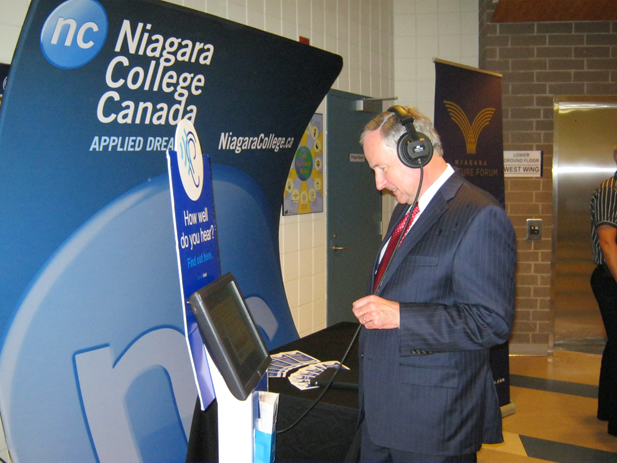 Niagara-on-the-Lake, Ontario – The Government of Canada is helping Niagara businesses to innovate, adapt and bring to market promising ideas that will drive economic growth in southern Ontario.
The Honourable Rob Nicholson, P.C., Q.C., Member of Parliament for Niagara Falls and Minister of Justice and Attorney General of Canada, on behalf of the Honourable Gary Goodyear, Minister of State for the Federal Economic Development Agency for Southern Ontario (FedDev Ontario), announced a new investment for Ultimate Kiosk Inc. and the Niagara Angel Network. Minister Nicholson also celebrated agreements between Niagara College Canada and fourteen local small- and medium-sized businesses to work on collaborative research projects. FedDev Ontario's support will help accelerate commercialization, productivity and competitiveness and encourage private sector investment in innovation.
"The Government of Canada is committed to investing in innovation to create jobs and economic growth," said Minister Nicholson. "I am pleased that our government is working with Niagara College and the local business community to strengthen this region's competitiveness."
"We are delighted to be the first Niagara-based company to benefit from FedDev Ontario's Investing in Business Innovation initiative," said Terry Mactaggart, President and CEO, Ultimate Kiosk Inc. "It goes to the heart of the challenges that young growth companies typically face – the need to innovate constantly as new markets are identified and entered. Hopefully others will take advantage of this new opportunity and the local angel investor finance that drives it."
"Since its founding earlier this year, the Niagara Angel Network and the related Niagara Venture Forum have put down roots and begun to assist local start-up companies that have high potential for growth, profitability and job creation," said Nick DiPietro, Executive Director, Niagara Angel Network.
"We are grateful for the government's recognition of the important role that Niagara College plays in applied research," said Steve Hudson, acting President, Niagara College Canada. "Applied research is strengthening our economy by helping companies innovate and develop new products and processes that have tremendous commercial value. It is creating important opportunities for our students to gain hands-on experience through real world projects with local businesses."
Ultimate Kiosk and the Niagara Angel Network will receive up to $337,500 through FedDev Ontario's Investing in Business Innovation. The initiative is a direct result of feedback from business leaders, academics and community leaders from across southern Ontario, who suggested FedDev Ontario take a leadership role in encouraging entrepreneurs and investors to take the risks necessary to put southern Ontario businesses on the map.
Last year, Niagara College Canada received up to $750,000 through FedDev Ontario's Applied Research and Commercialization Initiative to partner with local small- and medium-sized businesses on activities such as applied research, engineering design, technology development, product testing, and certification.
For more information, please refer to the backgrounder.
FedDev Ontario was created as part of Canada's Economic Action Plan to support businesses and communities in southern Ontario. Now in its third year of operation, the Agency has launched a number of initiatives to create a Southern Ontario Advantage and place the region in a strong position to compete in the global economy. These initiatives are designed to support businesses and other organizations through partnerships and investments in skills and training; innovation; research and development; and increased productivity. To learn more, please visit www.feddevontario.gc.ca or call 1-866-593-5505.