Government of Canada Invests in Heritage Infrastructure at Willowbank National Historic Site of Canada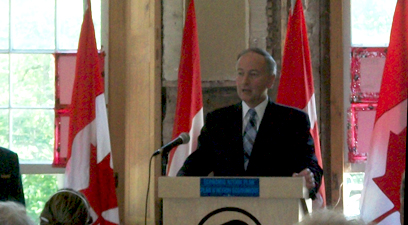 Queenston, Ontario
– On behalf of the Honourable Jim Prentice, Minister of the Environment and Minister responsible for Parks Canada, the Honourable Rob Nicholson P.C., Q.C., Member of Parliament for Niagara Falls, Minister of Justice and Attorney General of Canada, today announced the Government of Canada will be investing in infrastructure improvements at Willowbank National Historic Site.  Designated in 2003, Willowbank National Historic Site of Canada is renowned for its architectural uniqueness as one of the few remaining estate mansions built in the classic revival style in all of North America.  
"Willowbank is not only significant as a National Historic Site but is also an important local training facility for young heritage conservation apprentices," said Minister Nicholson.  "Our government is very proud to support initiatives that maintain the structure of this historic estate."   
Through the National Historic Sites Cost-Sharing Program, the Government of Canada will be contributing up to $100,000 to support urgent structural repairs on the main house. These repairs include the partial dismantling and rebuilding of the stonework on the south and west walls, and the rebuilding of the east stairs.
"Our government recognizes the importance of stimulating growth through key infrastructure investments," said Minister Prentice. "We are pleased to be investing in Willowbank National Historic Site as a way of simultaneously preserving our historical heritage while promoting the economy with investments that create local jobs."
"We are extremely grateful for the assistance from the Parks Canada Cost-Sharing Program," said Julian Smith, Executive Director, Willowbank National Historic Site.  "The timing is excellent as it addresses our most pressing structural problems, opens up the way for essential upgrades to meet safety and program requirements, and provides employment opportunities for our students."
Parks Canada's Cost-Sharing Program, with a budget of $20 million provided in part by Canada's Economic Action Plan, reflects the government's desire to support job creation by providing funding for conservation of national historic sites. This Program provides opportunities for skilled construction and conservation professionals to work on national historic sites across the country.
For additional information, please see the accompanying backgrounder at HYPERLINK "
http://www.parkscanada.gc.ca"www.parkscanada.gc.ca
  under Media Room.