July 21, 2022
Expanded Niagara Falls History
Museum Opens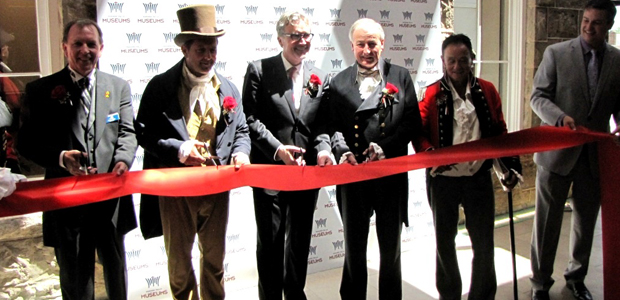 NIAGARA FALLS, ON – Government representatives joined with members of the community in Niagara Falls today to celebrate the official opening of the newly expanded Niagara Falls History Museum.
The Honourable Rob Nicholson, P.C., Q.C., Member of Parliament for Niagara Falls, Minister of Justice and Attorney General of Canada; Kim Craitor, Member of Provincial Parliament for Niagara Falls; and Jim Diodati, Mayor of Niagara Falls were all on hand and pleased to mark the completion of this important project.
Housed in the historic Stamford Township Hall, the museum holds a unique collection of military equipment, relics and archival records relating to the Battle of Lundy's Lane, as well as other local engagements of the War of 1812 which proved to be integral to the survival of Canada as a nation.
Improvements to the museum include an additional 9,870 square feet of space, increasing the total area of the museum to more than 18,000 square feet, a new visitor centre that houses a War of 1812 exhibition, and a theatre space. The museum was also upgraded to meet current accessibility standards.
"Our government is committed to strengthening the local economy through important infrastructure projects, while creating a lasting legacy in the historical evolution of Canada," said Minister Nicholson. "The revitalization and expansion of the Niagara Falls History Museum will draw tourists to Niagara and provide an all-inclusive visitor experience in commemoration of the Battle of Lundy's Lane and the War of 1812."
The governments of Canada and Ontario have each committed up to $3.2 million toward this project.  The City of Niagara Falls contributed the balance of the total project cost of more than $9.7 million.
Federal and provincial contributions came from the Building Canada Fund-Communities Component, which represents a joint federal-provincial investment of more than $6 billion to help communities across Ontario address key infrastructure needs.