Riding Profile: Niagara Falls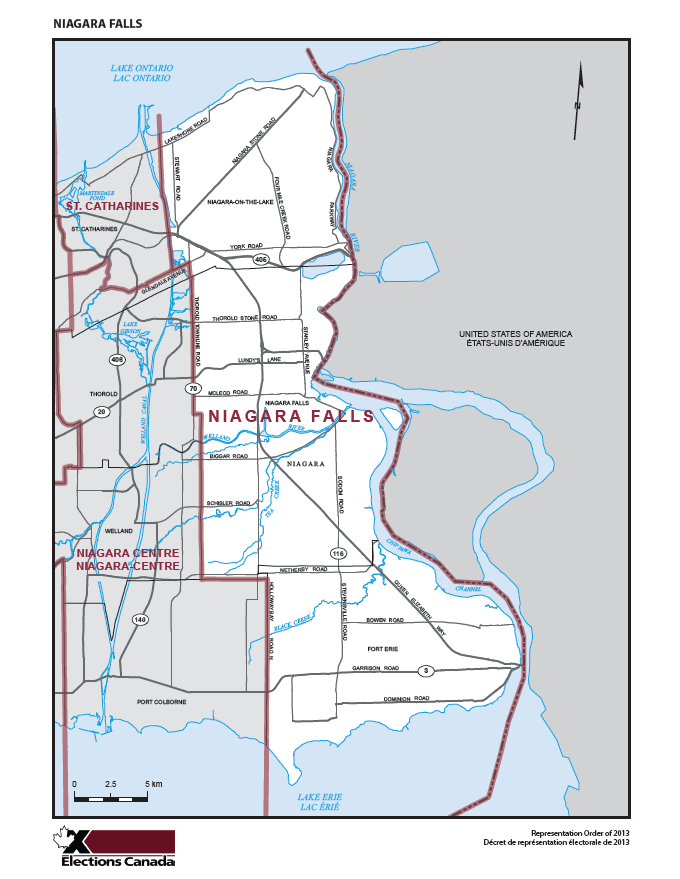 Located in the Niagara Peninsula of southern Ontario, the federal riding of Niagara Falls encompasses the municipalities of Niagara Falls, Fort Erie, and Niagara-On-The-Lake.

As of 2011, more than 128,000 residents are proud to call the Niagara Falls riding their home. This electoral district also holds the largest number of registered voters in Canada. The riding is situated between Lake Erie and Lake Ontario, the Niagara River, and the federal ridings of Niagara Centre and St. Catharines.

As an area that is rich with historical significance, scenic wonder, and entertainment for all ages, the Niagara Falls riding is arguably best known as a world-class tourist destination. As a whole, the area attracts millions of visitors from around the world every year. Some of its most attractive features include the thundering and majestic Niagara Falls, the Bruce Trail along the Niagara Escarpment biosphere, a booming and popular wine and agricultural industry, and many historical sites such as Fort George, Fort Erie, and numerous battlefields from the War of 1812. The history associated with the riding was vital to the formation of Upper Canada- and the Canada that we are proud to call home today.

Covering 581 square kilometres and adjacent to New York State in the United States of America, the Niagara Falls riding is also home to four major international border crossings: the Queenston-Lewiston Bridge, the Whirlpool Bridge, the Rainbow Bridge, and the Peace Bridge. These border crossings play a significant role in facilitating international trade and tourism with our neighbour to the south.

If you would like to learn more about the unique and wonderful municipalities in the federal riding of Niagara Falls, then please click on the images below.