July 17, 2022
Canada and the U.S. launch new technology to reduce border wait times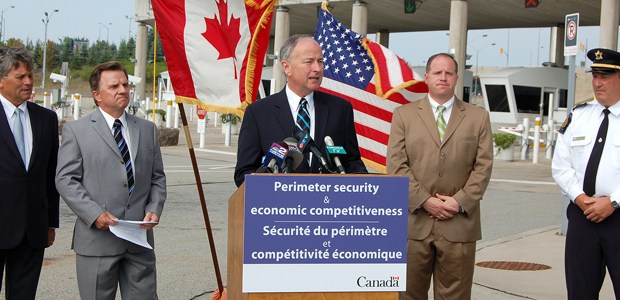 FORT ERIE, ONTARIO — The Honourable Rob Nicholson, P.C., Q.C., Member of Parliament for Niagara Falls, Minister of Justice and Attorney General of Canada, on behalf of the Honourable Denis Lebel, Minister of Transport, Infrastructure and Communities, today announced the installation of new technology at the Peace and Queenston-Lewiston Bridges to help people cross the border faster.
"Canada and the United States are taking action to promote the safe, secure and efficient movement of people and goods across the border," said Minister Nicholson. "This technology will make cross-border travel easier for Canadians and facilitate trade by providing reliable, up-to-date information to help drivers plan and choose the fastest crossing."
New and advanced sensor technology near customs plazas and approach roads will measure and report delays, and relay this information to travellers. People will be able to plan their routes better, time their crossing and pick the least busy bridge.
The Minister also announced funding to provide border wait time information on electronic signs on the freeway approaches to the Niagara border crossings. In partnership with the Province of Ontario, information will be displayed on electronic signs at the approaches to the border crossings and at key decision points starting in the Spring of 2013.
"While driving to the border, we naturally wonder whether it will be faster to cross at Fort Erie or Queenston," said Minister Nicholson. "With this new technology, accurate, up-to-the-minute crossing times can be posted on road signs."
This is expected to reduce border wait times for the travelling public and commercial carriers by up to one million hours per year. Up-to-date information on the Peace Bridge and Queenston-Lewiston Bridge websites will help drivers to plan and save money on fuel by avoiding congestion.
"This technology demonstrates significant progress on behalf of the Beyond the Border Action Plan by updating critical infrastructure at our ports and enhancement of the border-crossing experience for travelers," said Acting Customs and Border Protection Commissioner David Aguilar. "This latest example of US-Canadian collaboration demonstrates our nations' partnership to ensure continued economic competitiveness."
"Freight movement is essential to commerce and a healthy economy," said Federal Highway Administrator Victor Mendez. "This technology will help U.S. businesses move their goods and products more efficiently across the border to help grow our national economy and create jobs."

This project supports commitments under the Beyond the Border Action Plan announced by Prime Minister Stephen Harper and U.S. President Barack Obama in December 2011. Under this Plan, Canada and the U.S. committed to reduce, eliminate and prevent barriers to cross-border trade and travel and install border wait time measurement technology at the top 20 land crossings.
The border wait time technology will also:
Help border agencies better manage traffic volume by providing reliable information for planning purposes.
Ensure more efficient border operations by allowing border agencies focus resources on security.
Reduce environmental impacts by decreasing vehicle emissions from border congestion and delays.
"Border wait time measurement technology will improve accessibility across the border, increase efficiency at ports and enhance service levels," said the Honourable Vic Toews, Minister of Public Safety. "By implementing border wait time technology at these ports of entry, travellers and commercial drivers will receive information to help them decide when and where to cross the border".
This project was completed in partnership with the Federal Highway Administration, U.S. Customs and Border Protection, the Canada Border Services Agency and Transport Canada.
For information on the Peace Bridge, please visit: www.peacebridge.com
For information on the Queenston-Lewiston Bridge, please visit: www.niagarafallsbridges.com