February 18, 2022
The Honourable Rob Nicholson Celebrates Local Benefits of the Community Infrastructure Improvement Fund in Ontario
Niagara Falls, Ontario – Across the country, community centres, cultural centres, ice rinks, swimming pools, and other community projects will soon be improved thanks to support from the Government of Canada's Community Infrastructure Improvement Fund (CIIF).
As part of the Government's Economic Action Plan 2012, the Honourable Rob Nicholson, P.C., Q.C, Member of Parliament for Niagara Falls, Minister of Justice and Attorney General of Canada, today announced $646,189 in federal funding for seven local projects under the Fund.
"Our Government is demonstrating its continued commitment to communities across Canada," said Minister Nicholson. "Here in Niagara, these projects supported through the Community Infrastructure Improvement Fund, will create jobs, growth and long-term prosperity in our local communities."
The Government of Canada is providing funding for the following local projects: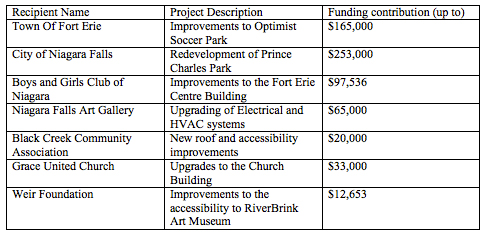 Through the Community Infrastructure Improvement Fund, the Government of Canada has committed to supporting communities and creating jobs through repairs and improvements to existing community facilities over the next two years.